Today I'm linking up with Kait from Communikait for her September Blogging Challenge.  She has some great prompts this month that I hope will let you get to know me better.
This prompt really had me thinking, because the older I get, the more I just want to explore in my own backyard.  Since the Army is constantly moving us around, I feel like there our long weekends and vacation days are spent venturing close to home as we learn about the state we're currently living in.
In addition to that, Don and I are on a mission to visit all the National Monuments, Historical Sites, and Parks in the US, so I excluded those from my list because it would be way too many to list!
That being said, the following locations have been on my bucket list for a long time and are places that I hope to visit once the kids are older and can hold their own while traveling.  I intend to enjoy these places to the fullest and don't want to be carrying around kids or planning my schedule around nap times.  There are a lot of places that would be "cool to visit", but these four are my priority for now!
Prague, Czech Republic
I was in high school when the moving Chasing Liberty came out, and I have been obsessed with going to Prague ever since.  One day my dad casually mentioned that he had visited Prague decades ago when he was studying abroad in France and I grilled him for details.  Turns out he had a friend who was studying architecture and she had access to all sorts of buildings so he pretty much got a private tour of the city.  SOOOOO JEALOUS!!!
It's 14 years later and I still haven't gone, but I'm not giving up on my dream. We've thought of going a few times, but I want Don to have a long enough vacation that we can really take it all in.  If there's only one place I could visit before I die, Prague would be it.
Banff National Park, Canada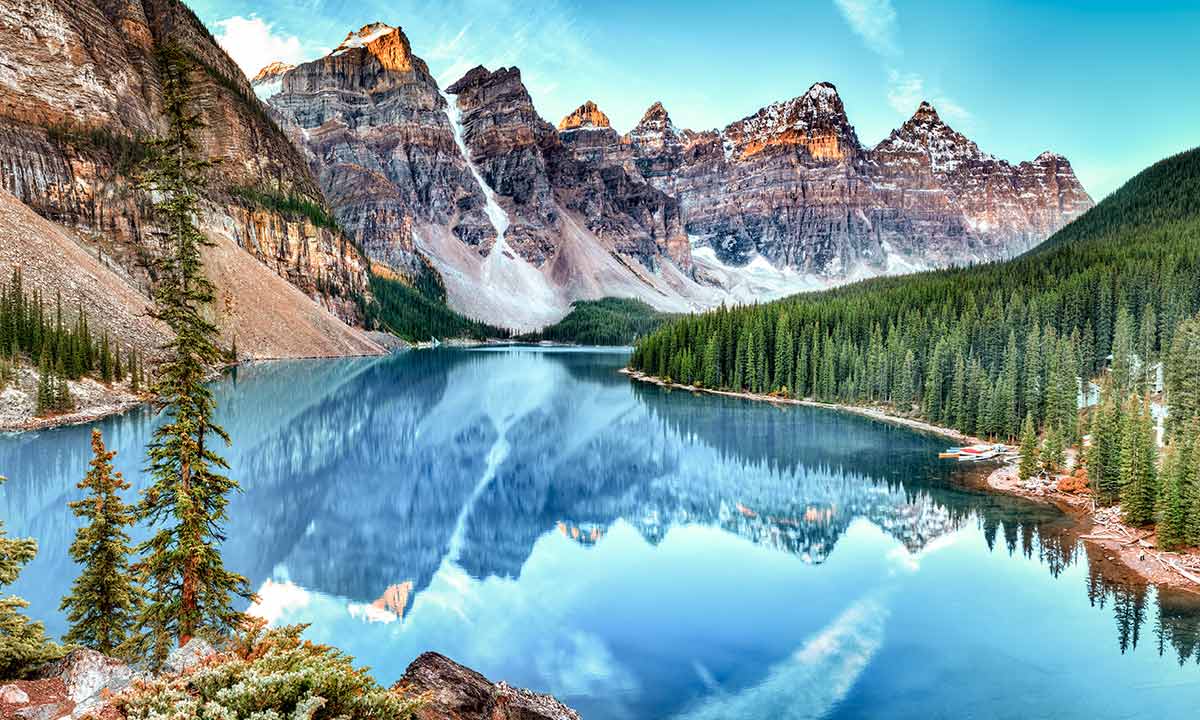 I couldn't resist putting a national park on my list – but have you seen pictures of Banff?  They are breathe taking and I cannot believe how beautiful they must be in real life.  I'm imagining a family trip with camping, hiking, canoeing, and all sorts of memory making!
Machu Picchu, Peru
As a Spanish major and a Spanish teacher, I feel like Machu Picchu is one of those must visit places and it's been on my bucket list since I decided to major in Spanish.  I've seen ancient ruins in Honduras, Belize, and Mexico, but I feel like Machu Picchu is the mother lode when it comes to ancient civilizations.  In addition, I believe it's the perfect mix of history, the Spanish language, architecture, and outdoors.
If I go, I definitely plan to do the guided hike to Machu Picchu.  Don's best friend did this a few years ago and tells the best stories of his experience.  This trip will have to wait until the kids are older because I plan on taking them.  I've already got Elizabeth practicing her Spanish.
Harry Potter World, Universal Studios, Florida
This one is on my 40 by 40 bucket list so it WILL be accomplished in the next few years – I'm thinking a girl's trip with my mom, sister and E!  One of my friend's mom used to work for a book publisher and gave me the first Harry Potter book as a birthday gift – I've been hooked ever since.  I own first edition's of all the books and love re-reading them when I have the time.
So yes, Harry Potter world is a definite must on my places to visit list.  I think this may be the most attainable in the near future since it doesn't require much more than booking a flight, hotel and admission!
So only four places, but four places that I have researched and day-dreamed about for years.  I'm not trying by any means to wish away the kids' childhood, but I do look forward to crossing these locations off my bucket list someday!
What are your top 3 places you want to visit?